contact@mathieuroquigny.com
+33 6 13 08 01 06
Paris, France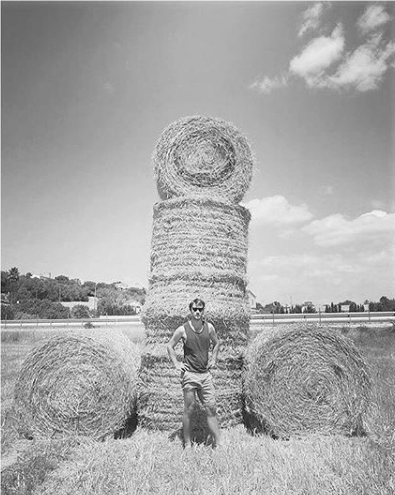 « Man VS Wild », Diary, 2015
Mathieu Roquigny entreprend une démarche où hasard,
quotidien et humour entrent en interaction.

 

Le jeu, le détournement d'objets mais surtout l'instinct de collectionneur sont des constantes de son travail qui se construit à travers l'ordinaire. L'usage d'un vocabulaire formel minimal et de matériaux modestes confère à ses œuvres une apparente simplicité qui ne fait que renforcer leur redoutable efficacité.
Mathieu Roquigny pénètre en effet un champ performatif où tout ce qui l'entoure peut être soumis à une seconde lecture, à une tout autre interprétation, intensément plus profonde et essentielle.
Cette impression de créer tout en passant le temps, en s'arrêtant sur des fragments de l'éphémère et du banal, tout en révélant leur pouvoir vital, dégage une insatiable sensation de fragilité et, étrangement, d'attirante et de joyeuse beauté.
C'est cette polysémie qui donne toute sa richesse et son originalité
à l'œuvre de Mathieu Roquigny.
Pauline Guelaud



Mathieux Roquigny (°1982) is French artist who lives and works in Paris.
Graduated with distinction from the institute Saint Luc in Tournai (Belgium), section photography and animated images (2002-2005).
Mathieu Roquigny lets coincidence, humor and the everyday interact with each other. The game, the diversion of objects, but especially the instinct of a collector are constants of his work that is built through the ordinary.
The use of a minimal formal vocabulary and modest materials give his works an apparent simplicity which only reinforces their formidable effectiveness. Mathieu penetrates a performative field where everything around it can be subjected to a second reading, to an entirely different interpretation, Intensely deeper and more essential.
This impression of creating while passing time, stopping on fragments of the ephemeral and banal, while revealing their vital power, reveals an insatiable sensation of fragility and strangely, of attraction and joyful beauty.
It is this polysemy which gives all its richness and originality to the work of Mathieu Roquigny.
Expositions personnelles
2017 : « That's all Folks! » / Light Cube gallery / Renaix, Belgique
2016 : Galerie Pop-up – YIA / Carreau du Temple, Paris
2016 : « Tant Pis ! » / Galerie Pop-up, Amiens
2015 : Galerie Artyfamily / Paris
2014 : «Remember Me» / Light Cube gallery /  Renaix, Belgique
2014 : Galerie Pop-up / Amiens
2013 : «Cut-off» / «56» rue du Vertbois, Paris
Expositions collectives
2018 : Independent Pages / FILAF / Perpignan
2017 : « Tutoriality » / Le 6b / Saint Denis
2017 : « 52 » / Villa Belleville / Paris
2016 : « Dans le regard de l'autre » / Le Carreau / Cergy
2016 : Festival Vis à Vis / Paris
2016 : Circulation(s), festival sur la jeune photographie contemporaine / 104 / Paris
2015 : Hidden / Buxelles, Belgique
2015 : Parcours Saint Germain / Paris
2015 : Exposition des 2 lauréats du Prix Sciences Po pour l'art contemporain / Tajan / Paris
2015 : LAPS – Le Carreau / Cergy
2015 : Nuit Blanche / Cergy
2015 : Vente aux enchères caritatives ART for Haiti / Paris
2015 : Sortie du livre 50/52 aux éditions 11-13
2013 : FotoFever / Bruxelles, Belgique
2013 : «Inauguration partagée» / galerie Bacqueville / Lille
2013 : «5 photographes #15» / Rencontres photographiques / Arles
2013 : «All this here, Tout est là» / Pavillon Carré de Baudouin / Paris
2011 : La Sucrière / Lyon
2008 : Nuit Blanche / Amiens
Prix
2015 : Prix Kristal / Salon de Montrouge 60e
2015 : Prix du public Sciences Po pour l'art contemporain
Workshops
Le Carreau (Cergy) / Salon de Montouge / Galerie ArtyFamily (Paris)